Okhai 'Map' Hand Embroidery Work Kurta Pant Set
Introducing the 'Map' Kurta pant set, a stunning ensemble that celebrates the rich cultural heritage of India while being perfect for the modern woman who loves adventure and travel. The brown color of the set adds a touch of elegance and sophistication to the intricate embroidery work, which features a unique combination of running, stem, and satin stitch on the front, back, and both sleeves of the kurta. Inspired by an ancient hand-drawn map, the embroidery work on this set is a celebration of India's rich history and cultural legacy. The wavy slit in the front of the kurta adds an element of modern design, and also allows for ease of movement and comfort. The concealed pockets in the pants add functionality, while the drawstring and elastic in the back of the pants ensure a comfortable fit for women of all sizes. To style this set, pair it with simple accessories that won't detract from the beauty of the embroidery work. A pair of statement earrings and strappy sandals would complete the look perfectly. Alternatively, the set can be dressed down with a pair of sneakers and a denim jacket for a more casual look. The traditional design and embroidery work are a nod to India's rich cultural heritage, while the modern cuts and design details make it perfect for women who want to look stylish and feel comfortable while on the go.
Brand Name -Okhai
Country of Origin -India
Generic Name -Women-Clothing
Craft -Hand Embroidery work
Color -Brown
Material -Cotton
Net Qty -1 Kurta and 1 pant
UOM -UNIT
Dimension / Size -Kurta: Bust:XXS:75-79cms, XS:80-84cms, S:85-89cms, M:90-94cms, L:96-102cms, XL:104-109cms, XXL:110-114cms Pants: Waist: XS:71-76cms, S:79-84cms, M:86-91cms, L:94-99cms, XL:99-104cms, XXL:104-109cms
M.R.P.(incl. of all Taxes) -
Product SKU -LKS23315810
Manufactured & Marketed By -Okhai Center for Empowerment, Hostel Complex, Tata Chemicals Township, Mithapur, Jamnagar, Gujarat 361345, India.
Packed By -Okhai Center for Empowerment, B 319, Sumel-8, Near Ajit Mill Compound, Rakhiyal, Ahmedabad 380023, Gujarat, India
Customer Care -Customer Care Executive, Address: Okhai Center for Empowerment, 4th Floor, Shivalik Point, Near Mithakali Six roads, Navrangpura, Ahmedabad 380009, Gujarat, India. Phone: 079 66131721/ +91 6359 021 222, Email: okhaicfe@okhai.org
NOTES FOR YOU
Wash Care

Cotton Apparel - Hand wash separately. Silk & Madhubani - Dry clean only. Baskets & Show Pieces - Clean with a wet cloth. For any other product - Please find the wash care in the product description.

Shipping

Free shipping within India on orders valued above INR 4999. Shipping out of India is as per weight calculation at checkout.

Country of Origin - India

Gift Wrap Available

To gift wrap order, select the gift wrap check box on the cart page during checkout

30 Days Free Return

Okhai Apparels - 30 Days Free Return. On SALE - No Return Refund. Please Note - Custom Made Handicrafts - No Returns No Refund as mentioned in the product description.

Estimated Delivery Time

Okhai Apparel - 4-6 Working Days. Custom Handicrafts - 15 to 30 days as artisans make it after they receive the order.

Colors

The colours seen in the image may vary from the actual product due to different computer screen resolutions and displays. Dark colours may look lighter in direct sunlight.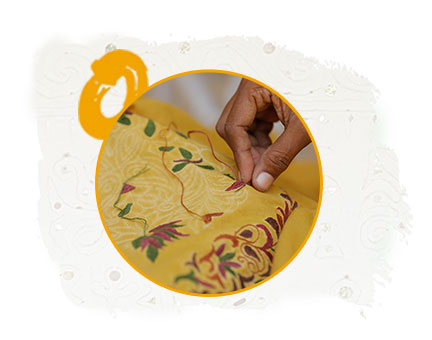 Embroidery
The process used to tailor, patch, mend and reinforce cloth fostered the development...
Read More