Okhai 'Amelia' Hand Embroidered and Mirrorwork Dress
"Simple and elegant, Amelia will take your special day to the next level. The cascading frills of this white dress exude femininity and grace while creating a unique silhouette that only gets more stunning as you move. If you want to make a statement, this is the dress for you! Amelia is a white layered four frilled dress with elastic on the neck line and straps to be tied on shoulders for you to tie it accordignt to your pleasure. Adorned with delicately hand embroidered big flowers with running stitch and double knot stitch on all the frills in front and at back makes the dress even more dreamy. The added mirrors on top of the embroidery makes it a stunning piece for special occasions. Amelia is not to be underestimated in charisma; and will surely bring out that inner princess in you! Best paired with high heels and accessories like a bracelet and earrings, Amelia is waiting to be yours.
Brand Name -Okhai
Country of Origin -India
Generic Name -Women-Clothing
Craft -Hand Embroidery and mirrorwork
Color -White
Material -Cotton
Net Qty -1 dress
UOM -UNIT
Dimension / Size -Bust: XS:80-84cms, S:85-89cms, M:90-94cms, L:96-102cms, XL:104-109cms, XXL:110-114cms
M.R.P.(incl. of all Taxes) -6200
Product SKU -LD22524580
Manufactured & Marketed By -Okhai Center for Empowerment, Hostel Complex, Tata Chemicals Township, Mithapur, Jamnagar, Gujarat 361345, India.
Packed By -Okhai Center for Empowerment, B 319, Sumel-8, Near Ajit Mill Compound, Rakhiyal, Ahmedabad 380023, Gujarat, India
Customer Care -Customer Care Executive, Address: Okhai Center for Empowerment, 4th Floor, Shivalik Point, Near Mithakali Six roads, Navrangpura, Ahmedabad 380009, Gujarat, India. Phone: 079 66131721/ +91 6359 021 222, Email: okhaicfe@okhai.org
Model Fit -This model is 5'5" and wearing size XS
Dress Measurement 
 
 
Size
XXS
XS
S
M
L
XL
XXL
In Inches      
Dress
Bust
24
26
28
29
34
36
38
Waist (Natural)
34
36
38
40
42
44
48
Length
48
48
48
48
50
50
50
In Cms
Dress
Bust
60.96
66.04
71.12
73.66
86.36
91.44
96.52
Waist (Natural)
86.36
91.44
96.52
101.6
106.7
111.8
121.9
Length
121.9
121.9
121.9
121.9
127
127
127
NOTES FOR YOU
Wash Care

Cotton Apparel - Hand wash separately. Silk & Madhubani - Dry clean only. Baskets & Show Pieces - Clean with a wet cloth. For any other product - Please find the wash care in the product description.

Shipping

Free shipping within India on orders valued above INR 4999. Shipping out of India is as per weight calculation at checkout.

Country of Origin - India

Gift Wrap Available

To gift wrap order, select the gift wrap check box on the cart page during checkout

30 Days Free Return

Okhai Apparels - 30 Days Free Return. On SALE - No Return Refund. Please Note - Custom Made Handicrafts - No Returns No Refund as mentioned in the product description.

Estimated Delivery Time

Okhai Apparel - 4-6 Working Days. Custom Handicrafts - 15 to 30 days as artisans make it after they receive the order.

Colors

The colours seen in the image may vary from the actual product due to different computer screen resolutions and displays. Dark colours may look lighter in direct sunlight.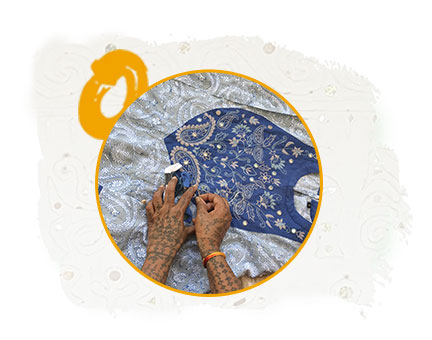 Mirror Work
Mirror work has been in vogue for centuries and is popularly known as "Sheesha"...
Read More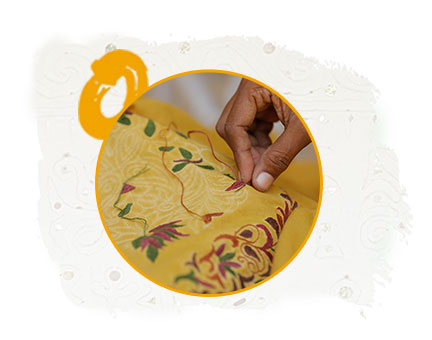 Embroidery
The process used to tailor, patch, mend and reinforce cloth fostered the development...
Read More